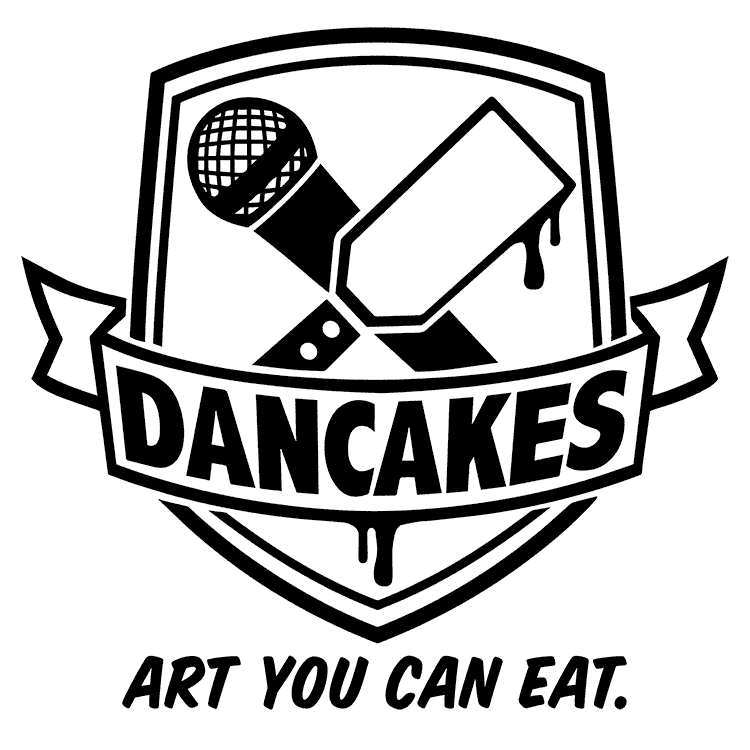 ---
Dancakes is an events and entertainment company, performing live pancake art at nearly any location worldwide and creating both commissioned and original content for social media at their studio in St. Louis, MO. Founded in December of 2013 by Daniel Drake (Artist) and Hank Gustafson (Manager) the company has expanded to include 6 total Pancake Artists, three of which share an equal ownership equity in the company along with their Manager.
Initially, Dancakes was a name coined for the pancake art "parlor trick" that Dan developed while working at a small diner in his home town of St. Louis. Hired in 2009, he served his edible art in relative obscurity until a Reddit post documenting his process went viral in the fall of 2013. Very suddenly his rather obscure Facebook page, "Dr. Dan the Pancake Man", started to gain a substantial following.  This exposure culminated in an invitation to appear live on a broadcast of NBC's The Today Show; visibility from that broadcast led to a myriad of phone calls and emails asking Dan if he performed pancake art outside of his diner gig. With encouragement from his best friend Hank Gustafson, the pair formally incorporated Dancakes, becoming the world's first professional pancake art company.
In the following years, Dan and Hank produced video content for their increasingly popular social media channels, which in turn led to exponentially greater demand for the company's event services. As demand increased, the pair began to look for additional artists. A friend and fellow musician, Benjamin Daniel, became the second Dancakes artist in 2015, followed shortly thereafter by artist Dana Baldus who the team discovered via social media. Ben and Dana now share an equal ownership of the company with Dan and Hank.
The company has been featured on TV and social media platforms for hundreds of companies, including Disney, Dungeons and Dragons, BuzzFeed, and many more. They've been hired internationally in Brazil, England, the United Arab Emirates, Hong Kong, Thailand, and Singapore, with more to come.



As the brand has grown and demand continued to rise, Dancakes has brought 3 additional artists into the fold – Lee Goldberg, based in Phoenix, AZ; Jenny Harrison, based in Los Angeles, CA; and Ryan Lewin, based in Dallas, TX – with plans to train others and expand their presence into different avenues. Looking to the future, Dancakes has begun to create custom, preserved pancake art pieces for galleries, and has been working with manufacturers and retailers to launch an original professional-quality pancake art kit, plus educational content to share the novel medium of pancake art with others.