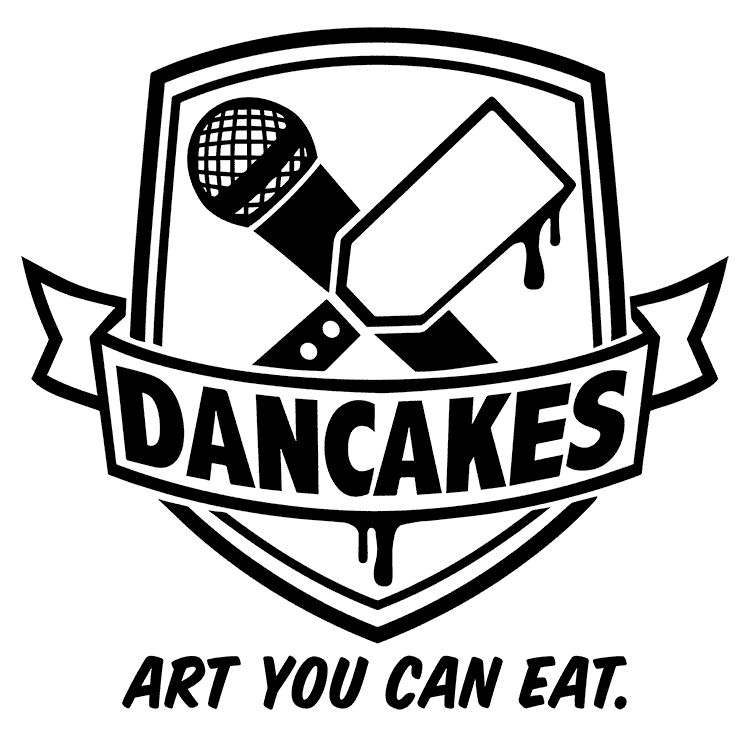 ---
Need unique event entertainment or viral video content? Here at Dancakes we take playing with your food to a whole new level by creating astonishing and delicious art, right before your eyes!
Having performed at thousands of events all over the world, The Dancakes team can take your already amazing event and provide a delicious spectacle that will make it unforgettable! Whether it's a convention with thousands of attendees or a small, intimate gathering of friends and family, we have the ability, equipment and know-how to entertain, no matter the situation.
I cannot even explain the wow factor of Dancakes and the talent of the artists. The creations would be amazing on a piece of paper but to do it on a pancake is unbelievable. Many people were crowded around the Dancakes table to watch the magic happen. Especially when it come to the flip of the pancake where you really see the art. It was nothing less than amazing. Half the pancakes weren't eaten because people wanted to save the art and take it home. I highly recommend Dancakes it you want something new where everyone can get a treat!
So much fun! Well organized, personable and entertaining!
Rachael Melniker
2022-06-07
Dancakes is unreal! We hired them to entertain at our son's bar mitzvah and they were adored by kids and adults alike. Dana and Ben are so talented, and kept people engaged from the first minute to the last. They took any and all requests, no matter how strange or challenging. Wouldn't hesitate to have them back again anytime!
Dancakes was the PERFECT addition to our party! Everyone ENJOYED the experience!!!!! Our artists, Ben & Angelique, were AMAZING!! Their artistry & attention to detail was INCREDIBLE! Dancakes made our party extra special and one that we will never forget!!!
Dancakes and their artists were amazing and created beautiful pancakes that were enjoyed by kids and adults alike. Watching them create the pancake was half the fun! It was easy to work with them and create what we wanted for our event.
Thank you, Dancakes, for adding the fun to our birthday brunch! The adults and kids alike had a blast. Dan was an amazingly talented artist, professional and courteous. We will definitely be hiring Dancakes again!
Meghan Moloney
2021-10-29
We recently had the Dancakes team do pancake art at our wedding reception, and it was so much fun!! Our guests loved it. The team was so kind and professional. I would highly recommend them for your wedding or any event that you'd like to make memorable!
Courtney Brown
2020-10-19
Wow!! I ordered a custom pancake for my wedding from these guys and it turned out awesome! Perfect addition to our cake table and went with our theme of breakfast for dinner. Incredible customer service when a problem occurred and got the shipment quickly and on time! Highly recommend!
Chad Rabinovitz
2020-10-06
Absolutely incredible talent. Fantastic service. It's such a unique form of entertainment that's added tons of value to our event.
Keep reading to learn more, or book us now!
Our team of talented and charismatic artists can take portraits, landscapes, cartoon characters, logos… Literally anything you can imagine, and turn it into a pancake! All made with normal, restaurant quality pancake batter that tastes just as good as it looks.
Click on the photos below to learn more about each Dancakes team member:
Looking for your next piece of viral media? Here at Dancakes we've been regularly producing viral content for brands and private clients for nearly a decade. Outfitted with a world class studio, specifically built for creating pancake art content, we can provide you with everything, from slick, professionally produced videos, to charming and quirky TikTok style content.
Whatever it is you need, we're here to make it happen and help you succeed.
Book us now and let's find out what kind of magic we can make for you!