x
Hank Gustafson
Owner/Manager/Media
St. Louis, Mo

I'm the guy to call.
Meaning if you want to talk Dancakes, book Dancakes, or have Dancakes make a video I'm the guy that'll help make it happen.
I met Dan through our mutual friend Mike. Mike worked with Dan at the infamous diner where Dan started slinging his first unique pancakes. I was told Dan was looking for someone to film a music video for his band; I was an amateur video guy. We met, we talked, we laughed and….we never made the music video but we did become fast friends.
Skip ahead just 3 months (to November 2013) and Dan texts me saying that he was on the front page of Reddit; a picture of him making a Mario Mushroom pancake had gone viral.
A few days later a local news station that had caught wind of the phenomenon filmed a story on Dan at the diner. I headed to his apartment to watch the story with him on the 5 o'clock news. The segment airs, it's charming and feels like the perfect end to this 15 minutes of fame.
While we're sitting there, Dan mentions that an intern at the Today Show called and asked him to make the faces of the hosts and then send her a pic of them, but he hadn't heard back since. Then his phone rings: It's the Today Show producer and they want him on the show in 2 days. "You fly out tomorrow!" I ask if he needs a friend to join him; he did.
We fly to New York, he goes on the show, I chill in the green room with Charlie Sheen's doctor. It's crazy.
We get back and people start calling for events. We end up doing local events throughout 2014, and at the end of that year Dan wants to make a pancake art video. I figured he'd suggest something like a Mario Mushroom time lapse (since that was the pancake that went viral in the first place), but no; Dan wants to make all 151 Pokemon as our first pancake art video. "Go big or go home," he says. We filmed and edited it over 3 days, posted it on our newly created Dancakes YouTube, and the next day, we wake up to virality. Calls came in from around country and around the world asking if we could do live performances.
Dan is not the best with handling logistics; before I was seriously involved, gigs were dropped left and right. I, on the other hand, am good with logistics. "I'll handle the business side, you handle the pancakes," I told him. Thus, Dancakes was born.
Since then Dan and I have traveled to several foreign countries, preformed gigs in almost every major US city, and have made videos for huge brands. It was me and him for 2+ years and it was crazy, interesting and more than anything amazing.
Now I handle booking events and for multiple pancake artists, as our team has grown since the beginning.
So if you ever need to book Dancakes for anything, you'll probably be hearing my voice soon.
We have a crazy job!
x
Daniel Drake
Owner/Dancakes Artist
St. Louis, Mo

I have a weird job.
I graduated high school with less-than-stellar grades. I didn't go to college. Probably could have, but didn't; I was tired of the school system and loved the simple freedom that came from living and working paycheck to paycheck. Part of the reason my grades were so bad was my incessant doodling; I wrote and illustrated my own comics instead of turning in my math homework.
After school ended I found myself working the slow shifts at a diner in South St. Louis called Courtesy. And when I say slow shifts, I mean, problematically slow. Working for tips ain't no joke. After a few months of the dredge, I started to think a little more creatively. Folks on the morning shift would throw mickey-mouse-ear dollops on their pancakes to brighten days and open wallets, and I had a light-bulb moment: Pancakes don't need to be round. Technically, any shape you draw on the griddle will cook solid and hold form.
The very first smiley face pancake I ever served netted me a $15 tip (thanks Chad) and changed my life.
Fast forward several years of this: After learning some layering and design tricks (thanks Tracy), all of a sudden a photo collage of me making themed pancakes and silly faces (thanks Brent) went viral. In November of 2013 I was flown out to NYC with my best friend, Hank, to appear on national television (NBC's The Today Show) making celebrity pancake faces for the whole country.
Once you're on national TV, folks just start getting in touch. "Do you do birthday parties?" they'd ask. "Absolutely," I'd say. I had never done birthday parties before, but why wouldn't I? They were offering a lot more than my wage plus tips. One thing led to another and Dancakes was born. I had the art chops, and Hank possessed a fantastic business acumen that made him an invaluable part of what we wanted to build.
That was several years ago.
Today, we have privilege to fly around the world serving pancake art to people of all ages, shapes, and sizes, and from all walks of life; From Sao Paulo to Dubai to Bangkok to Louisville Kentucky, this medium makes people smile. Our brand is growing and our company now features multiple full-time professional pancake artists. We have millions of social media followers and are blessed not only with the chance to travel, but the chance to be a content creator for massive brands and personalities, and we get to do all of this as friends, and as a family.
To say it is a delight is an understatement.
As we move forward, I try to be mindful of 2 things.
First: Be in the moment. Everything is temporary and the joy right now is the only joy there is. So soak it up.
Second: Mistakes are delicious. Play fun games, win fun prizes.
x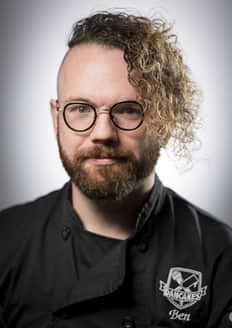 Ben Daniel
Owner/Dancakes Artist/Webmaster
St. Louis, MO
How'd you get into pancake art?
Dumb luck, mostly.
I met Dan filling in for drums in his band, no clue that pancake art was a thing or that Dan was internet famous. I thought it was awesome, but I never thought, "Man, I've gotta get in on that pancake art game,".
Fast forward to the summer of 2015 and I had talked Dan into going on tour with me, music and pancake art. It was a wild adventure, but Dan had to fly out for a comic-con gig during the tour and miss a show.
With few options available Dan said, "Well, do you wanna learn how to do it?"
"Ummmm… Sure. Why not?" was my over eager reply.
So after a quick crash course in his step-mom's kitchen I drove to Austin in a blistering thunderstorm and made terrible pancake art and played (hopefully good) music for some awesome folks.
Fast forward to now and I'm jetting all over the world making pancake faces, befuddled to how the heck I fell into this line of work. It doesn't make a whole lot of sense, but neither do most things in life. Just enjoy.
x
Dana Baldus
Owner/Dancakes Artist/Social Media
St. Louis, Mo

It's a pretty interesting story, how I became a professional pancake artist.
After graduating high school in 2016, I decided to take a gap year to make a more serious decision about where I wanted to go to college and to make money by getting a few jobs in town. A few months after the start of my gap year (wasting my life away scrolling on Instagram) I saw my first pancake art video, posted by Dancakes. I was immediately impressed and intrigued by the medium, and took it as a challenge.
After binge-watching enough videos to understand how it was done, I gathered equipment and tried it for myself. I posted my attempts online; to my surprise they saw what I had made and sent me a message about how they liked my art and if they could ask me a few questions. It turned out that I was a perfect candidate to be an employee: I was looking for work, not tied down to school, I was an artist, I had tried pancake art with decent results, and I was a mere six hour drive from St. Louis, where they were based.
As baffled as I was by the proposition my parents didn't seem to see the strangeness in all this and encouraged me to go down for a job interview. We did, and it was part time work for a few months, before I got a call in February, my laptop literally open to browse college options. Dan presented me an ultimatum: You can go to college and work part-time for the company, continuing to do events on the side, or you can move to Saint Louis to be a full-time, professional pancake artist, traveling around the country and possibly the world making art for people. I had two weeks to think about it, and in the end, I made one of the strangest decisions of my life: to go along with it.
Now I get to fly to new cities frequently, have free access to incredible events, have huge exposure for my artwork, and have met and worked with some amazing people and even some personal idols.
I'm still confused as to the direction my life has gone in the last year or so, but I'm loving every unorthodox second of it.
x
Jenny Harrison
Dancakes Artist
Los Angeles, CA

I got a BFA in Animation…. and became a PANCAKE ARTIST
Art has always been in my life. I had always loved drawing and painting. In school, I used every craft project to go overboard with creativity, and my parents were very supportive about it. The high school ROP (regional occupation program) introduced me to Animation as a career choice. I was already a huge admirer of the art of animation, so convincing myself that I was going to be an animator wasn't difficult.
I enrolled at California State University Fullerton to study Animation. Instead of refining my skills and tailoring my portfolio for an artistic position, I focused on my GPA and worked part time jobs to support myself through school. When I was a Junior in College, I finally landed a creative job, doing pastel portraits at the local theme park. I also learned to face paint and started my side-hustle. When I graduated in 2012, I left my part-time portrait job for a full-time job at Art Supply Warehouse.
The first time I had heard of Dancakes, I was at work at Art Supply Warehouse in 2015. While working on our Facebook page, I came across the Dancakes Avengers Video. Normally my boss was the one calling me over to watch youtube videos, but this time it was me. "Mark, you have to see this! It's amazing!!" We gawked at my monitor as the video continued, "I could never do that." I was wrong.
I finally got a job in animation a few months later. A production job was opening at Film Roman, on the show I interned on, Ultimate Spiderman. I worked in Animation production for a few years, eventually ending up an Assistant Production Manager on Justice League Action at Warner Bros Animation. The whole experience was surreal! I loved the people I was working with, and the show I was working on. Incredibly Inspiring, and Humbling, and at the end of the day, tiring.
The long commute from Orange County in combination with my long hours at work was taking a toll on my health, and I was missing spending time with my husband (then fiance) and dog. I felt unfulfilled, even though I was good at what I was doing, and I was passionate about the project I was working on. I didn't have time for myself or my loved ones, and I wasn't doing any art anymore. When we started wrapping up Justice League Action, I made the decision to leave my job at Warner Bros. I felt confident enough that I could make enough money face painting on the weekends to afford to paint at home during the week. I was right. I have been making a living as an independent artist and event entertainer since February 2017.
Dan and Hank found me less than a year later. I had learned to do Pancake Art for one of my face painting clients. To practice, and motivate myself, I began doing pancake art challenges and posting them on my instagram. About a week after I started posting my videos, Dancakes reached out to me. 6 months after that I was on a plane to St. Louis to train with them in person. Now I am their Southern California Artist, and Dancakes events have taken me as far as London!
When I am not doing Dancakes events, I am painting at home, selling at pop-ups, or face-painting. It has been a crazy journey, and I can't wait to see where else it takes me!
x
Lee Goldberg
Dancakes Artist
Phoenix, AZ

In 2014, I was a cook at a residential drug and alcohol treatment facility in Phoenix. During a brunch I made someone sunny side up eggs and I gotta say they looked like eye balls. So obviously I had to make the rest of the face out of hash browns, bacon, and sausage.
One day I had a resident helping me serve breakfast and he asked if I had ever heard of pancake art. I had not. I spent the rest of the day pouring over pictures and videos. I decided to try it using coffee filters and left over batter (think piping bag).
Let me tell you those pancakes looked…bad. Really bad. They were, however, the most fun I'd had in a long time.
I reached out to Dancakes about tips for improving my technique, and holy cow they responded. We became friends and after a year or so, they invited me to apprentice with them.
Fast forward to now, I travel the world making pancake art for wonderful people.
I'm the resident geek of the company and I love table top roll playing games. I always have a D20 in my pocket because, you never know.